What is a USB Flash Drive
What is a flash drive and what is a USB flash drive? Well, the truth is that there really isn't much of a difference and, in fact, they are both terms which describe the same device. This is basically a particularly small storage device which is usually used in order to transfer files from one compute to another. With the advancement of computer technologies flash drives have become smaller and smaller. Traditionally, they are a bit larger than a stick of gum, but you now have large storage space USB drives which are no bigger than the tip of your finger. They can carry a wide range of information from music to important corporate documentation. You can literally keep it and store it wherever you like to because they are built with mobility and flexibility with in mind.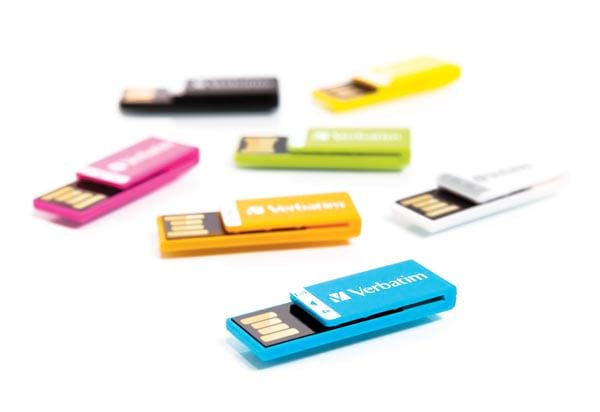 What is a Flash Drive Fsed for?
As we explained earlier, a flash drive can be used for a wide range of different things. People would usually use it to conveniently transfer different type of data. Using regular CDs is already rather outdated. Furthermore, with the majority of vehicles already being able to recognize and read USB drives, a flash drive is going to enable you to input information in the computer of your vehicle such as driving maps, music and even movies. So, if we have to give a precise answer to the question what is a flash drive used for – to store all sorts of information. What is a flash drive storage? This is the storage space which is provided by your flash drive.
Back in time, the first USB drives were only able to store up to a few hundred megabytes of information. However, as technologies begin to become more and more sophisticated and advanced, so did flash drives. You have portable USB ports which are able to carry up to a several hundred gigabytes of information nowadays available in the majority of regular computer shops. Of course, the more space you want to opt for, the more money you'd have to spend but overall, the USB drives are particularly accessible.
How to Use a Flash Drive?
Well, it's pretty simple, actually. The flash drive is going to have a USB port on one of the ends and all you need to do is plug it in your computer, laptop or any other device that can use the USB drive. The device is then going to read it and you'd have access to your information. It's as simple as that.
Anyway, a lot of people are seriously concerned about damages to USB flash drives and whether or not the information is recoverable. Luckily for you, the data is recoverable in a lot of circumstances. Of course, if you've destroyed the flash drive you wouldn't be able to restore the data but then again – that's true for every other solution out there. In any case, recovery software such as Disk Drill is going to take care of the process and you can enjoy your data being safely stored once again. With this in mind, below you will see a comprehensive intake on how to properly use the software in order to effectively recover lost information.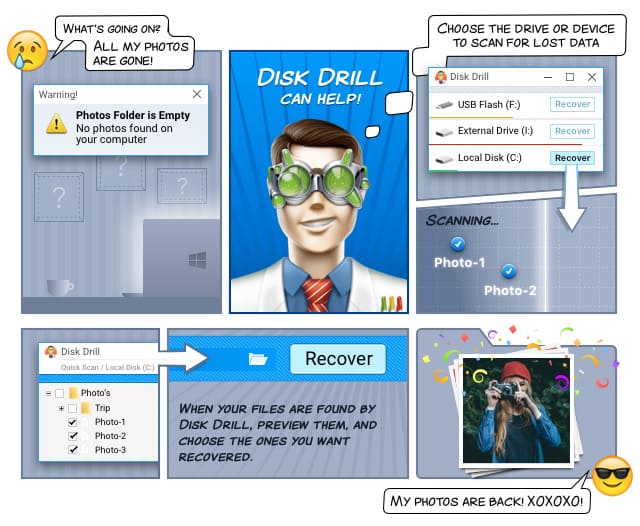 Download and Set up Disk Drill
Logically enough, you would first have to download the software. You can easily do so from the company's website. Furthermore, you would have to install it. Keep in mind that the Disk Drill Basic version is completely free and it's going to allow you to quickly start the recovery process of your USB data right away.
Connect the USB drive
The second thing that you would have to go through is connecting your USB device to the computer. Now, it's important that you do so directly. Don't use a USB hub or a cable – just plug it in as it is.
Scan the flash drive
Upon plugging the USB drive in the computer, you are going to get a list of available drives and you want to select the one you are going to scan. Keep in mind that you'd be capable of selecting the entire entity or just a partition of it for your own personal convenience. Once you are through with this, you can click on the "Recover" button and the scan is going to begin.
Take a look at the files
Once the scanning process is completed, Disk Drill is going to provide you with a complete list of the files which have been identified for recovery. Keep in mind that some of them might not actually have their original file names. Make sure to sort them by size, date or type – the way you want them to appear and as you find it the most convenient.
Complete the recovery process
Upon selecting the files that you want to recover, all you have to do is hit the "Recover" button and see the magic happens. Of course, you would want to make sure that the file you recover isn't corrupt. Sometimes, the file that you want to recover is going to get overwritten or damaged and it's going to appear as corrupt. This means that the file has already lost its entire structure and there's really nothing that you can do in this situation.
As you can see, there is absolutely nothing complicated in recovering your data from a flash drive. It's not really necessary for you to have any previous experience in matters of the kind and you can easily handle it in a matter of minutes. However, understanding what is a flash drive as well as the way it works is definitely going to provide you with quite a few benefits. You would be capable of determining the most appropriate scanning methods manually instead of relying on factory settings, even though Disk Drill makes sure to automatically implement the best approach based on your demand.
Keywords:

USB Flash Drive, Custom USB Flash Drive, Promotional USB Flash Drive, USB Flash Drive Manufacturer, Key USB Flash Drive, Card USB Flash Drive, Woods USB Flash Drive, Wrist band USB Flash Drive, Crystal USB Flash Drive, TF Card, Wireless Charger.
We provide Custom USB Flash Drive solutions, including USB Flash Drive, USB Flash Disk, Common USB Flash Drive, Custom USB Flash Drive, Promotional USB Flash Drive, USB Promotional Gifts, Mobile Accessories; Bluetooth Gifts; Computer Accessories; Promotion Gifts; any kind USB Flash Drive you may need, please contact us for more information: Tommy wechat whatsapp: +8613691605420, Email: sales@flason.com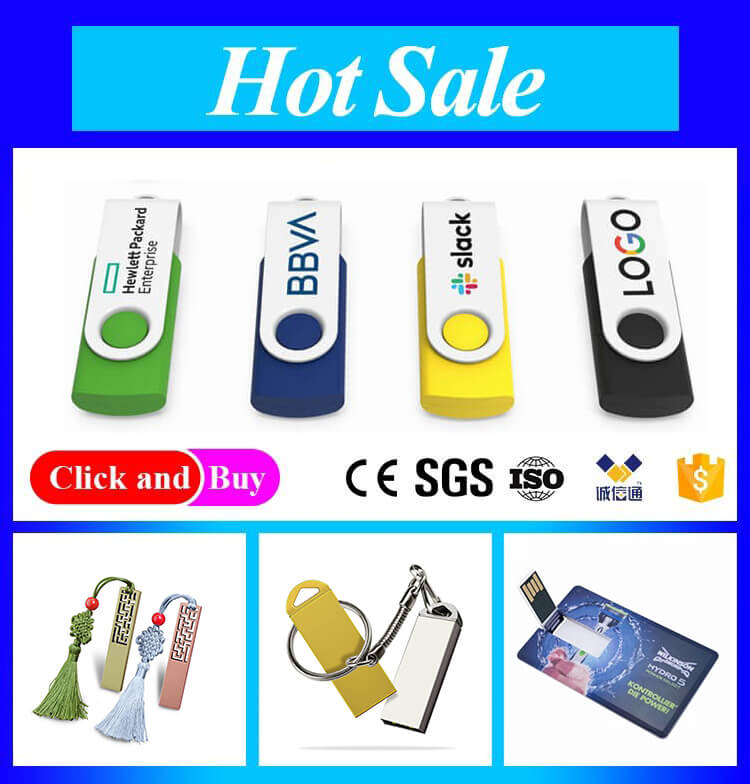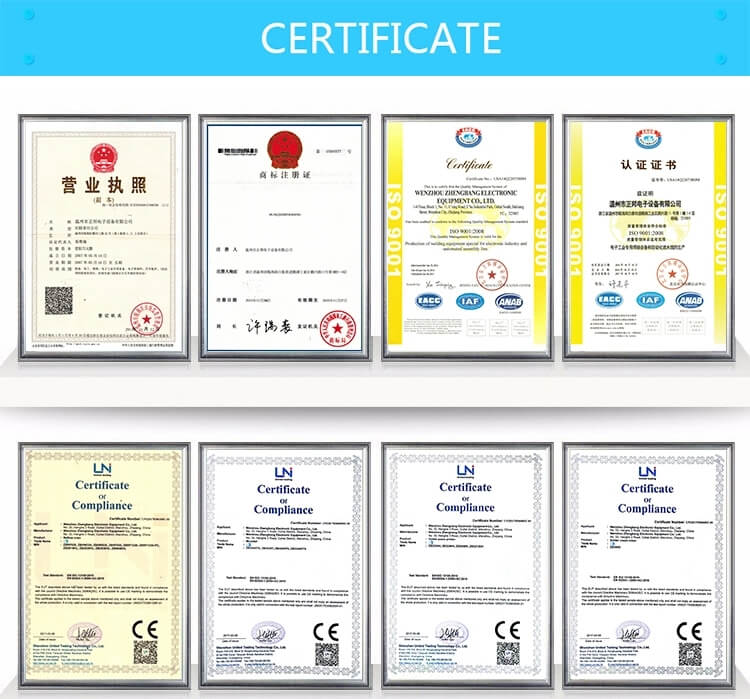 1) This is the first time I use this kind of USB Flash Drive, is it easy to use?
It's easy to use,If you still have any question, please contact us by e-mail/ skype/ phone/ wechat online service.
2) If USB Flash Drive have any problem after I receive it, how can I do ?
Our Engineer will check what happened on your USB Flash Drive and tell you the solution.
when need send back for repair, If the part is less than 0.5KG, we pay the postage.
When need send back for repair, If it exceeds 0.5KG, you need to pay the postage.
3) MOQ ?
1 sample, mixed order is also welcomed.
4) How can I buy this USB Flash Drive from you? ( Very easy and flexible !)
A. Consult us about this product on line or by e-mail.
B. Negotiate and confirm the final price , shipping , payment methods and other terms.
C. Send you the proforma invoice and confirm your order.
D. Make the payment according to the method put on proforma invoice.
E. We prepare for your order in terms of the proforma invoice after confirming your full payment And 100% quality check before shipping.
F.Send your order by air or by sea.
5)Why choose us ?
A. We have customer world wide, you can check our credit service with them !
B. Free Online traning, programming and technical support !
C. One stop promotion gifts customized USB Flash Drive Solutions !